Blackberry Curve 8310 review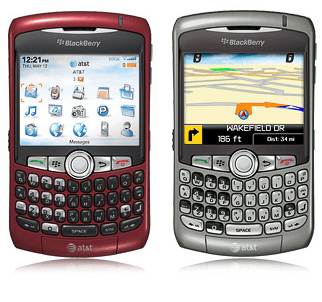 My new phone (unfortunately, the red one, I wanted the silver one: They'll swap it out when the titanium/silver one is available) came into the Boulder AT&T store on Tuesday. I called the AT&T main number and visited the website but neither gave any indication that the phone even existed. I paid $150 after rebate. This phone replaces my 8707v. As soon as I saw the Curve, I knew I wanted one, but the GPS was a necessary feature, so I waited for that version.
Specifications
Quad-band GSM
GPRS and EDGE
Internal GPS
MicroSD card (with MicroSDHDC capacity, I've checked up to 4GB, works fine, can't find any reasonably priced cards beyond 4GB yet, although 16GB is just around the corner)
Standard headphone jack, Bluetooth with A2DP profile (take that, iPhone junkies)
Uses SAME battery as my now-clunky 8707v
Media player codecs for most types of video, audio including AAC, MP3, AVI, etc.
First impressions
It's small, very small. The keyboard is on the edge of being unusable due to my fat fingers, but still works great.
I hate the red color (sorry, crimson)
The GPS worked great, even though I only used the Google Maps application. You're supposed to pay some exorbitant fee for the TeleNav navigator…. No friggin' way. I'll use SPOT or Blackberry Maps once I unlock the phone (according to a report, Blackberry Maps may be usable whether or not the phone is unlocked….)
The scrolling was erratic, but this turned out to be a hardware failure, I returned it on Friday and got a new one (thanks to Brian Mason at the Boulder store for helping me switch this out and solving my backup failure)
It's fairly fast and responsive
Software load was very different between the two Blackberry 8310's I got. The first one had three browsers (MediaNet, Blackberry, Internet). The new one has only one (MediaNet = WAP). I hope this is not the reason that Google Maps worked on the first one. I am also hoping this gets corrected when I activate Blackberry service with my work on Monday.
Media player has severe problems playing standard quarter HD MPEG4 .avi files, hopefully this will be corrected via a software fix.
Still no 3G or 3.5G…. I'll still need my 8707v or RAZR V3x in Japan and Korea (2100 MHz UMTS)
Folks wondering why I picked the GPS versus the Wi-Fi version, here's the lowdown: Wi-Fi with UMA and VOIP is crippled on the 8320 (T-Mobile) according to everything I've read. Most importantly, my work uses 802.1x with WPA supplicant (Odyssey), so I cannot use the Wi-Fi in the building. The decision was not so hard for me
This entry was posted by Dave on October 21, 2007 at 8:02 am, and is filed under Technology & Gadgets. Follow any responses to this post through RSS 2.0.You can skip to the end and leave a response. Pinging is currently not allowed.