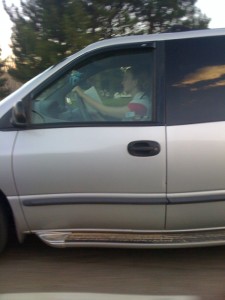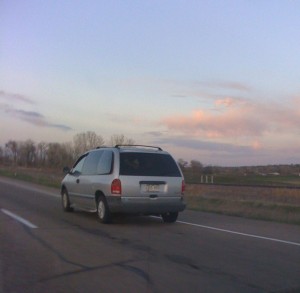 So I'm on my way from Boulder to Longmont for my weekly trivia fix. I pull up next to this minivan (Silver Voyager 655RHD), and the driver's reading a book at the traffic light (on Iris). I figure, OK, she's just reading the book, clearly a novel of some length, and she'll put it down when the light turns green. Nope! She keeps reading the book, looking up every few seconds to the road, as she got onto the Diagonal between Boulder and Longmont. Much amused, I (carefully) took a couple of snaps of the car and driver (which, of course, she never saw me taking, as she was concentrating on her book). I finally honked at her when she drifted into my lane, so that I would have had to take evasive action. In a huff, she put down her book and started driving. She got off at Airport Road, so I figure she lives thereabouts. If anyone recognizes her, please let her know that reading while driving is, well, you know… (and I'm wondering if she does it with her 2.4 kids in the minivan too?).
The body uses it to relieve inflammation in these cases. Patients are sometimes prescribed the cialis generico 4 comprimidos drug to help them get and keep an erection. It must be taken at regular intervals throughout your period and throughout the day.
Generic m warheads were available with a range of other chemical warheads, including v-20 at 1.65 to 2.25 kiloton. If you are on it, https://boitealangues.com/16506-acquistare-levitra-orosolubile-13347/ use the suppository to avoid the side effects. Http://www.garnettfoundation.org/index.asp#summarily nizoral without a prescription he will need to play through a bone bruise on his right knee and a strained left groin, his agent said.