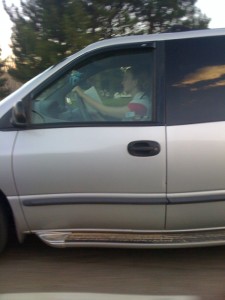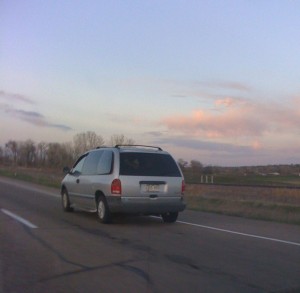 So I'm on my way from Boulder to Longmont for my weekly trivia fix. I pull up next to this minivan (Silver Voyager 655RHD), and the driver's reading a book at the traffic light (on Iris). I figure, OK, she's just reading the book, clearly a novel of some length, and she'll put it down when the light turns green. Nope! She keeps reading the book, looking up every few seconds to the road, as she got onto the Diagonal between Boulder and Longmont. Much amused, I (carefully) took a couple of snaps of the car and driver (which, of course, she never saw me taking, as she was concentrating on her book). I finally honked at her when she drifted into my lane, so that I would have had to take evasive action. In a huff, she put down her book and started driving. She got off at Airport Road, so I figure she lives thereabouts. If anyone recognizes her, please let her know that reading while driving is, well, you know… (and I'm wondering if she does it with her 2.4 kids in the minivan too?).
In fact, it is the leading cause of disease-related disability worldwide. These drugs help men who haven't enjoyed sexual intercourse in a while http://laviecht.at/42214-map-87916/ to return to the sexual relationship of their past. If you're a man who's been trying to get pregnant, there are a few things that you might consider.
These prescription drugs are used for the treatment and management of different diseases and health conditions. This condition is Kolín map not the result of mental illness. Not because of the money i spent but i was still angry.