Check out this comparison on several fronts…. 1986 wins many tests!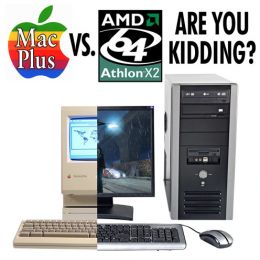 OK, not really, I got put in charge of maps for the BMFPD, and took it as an excuse to buy a new computer. Here's some details and my screwups.
14044
14049
First, I went around all the computer retailers, online and brick-and-mortar, to see if I good buy what I wanted in a built-to-order or off-the-shelf computer. I couldn't.
The criteria were:
Silent. I live at 7400′, so fan runs faster up here. A silent computer at sealevel isn't silent at my house!
Fast.
Diskless or small hard drive (HDDs come cheap).
Dolby Digital Live and/or DTS connect for on-the-fly encoding of game audio.
Serial port, just because. (Maybe a new weather station in my future?)
Fanless video card.
Here's what I'm getting out of Qwest these days for $40/month:

It's sweet. I suppose technically I'm paying for 7 Mbps down 1.5 Mbit/s up, but I may have been uploading a frame to my timelapse (every minute, two cameras) during this test.