This is an awesome remote with a huge HAF and WAF (Husband Acceptance Factor and Wife Acceptance Factor). I'm really please with it after using it for a week. I really don't have any remotes hanging around anymore, and not have to point the remote at the device is huge, especially with multi-device macros and sequences. Looking at my pros and cons, it looks like I don't like it, but it really is one of the best recent gadgets I've bought!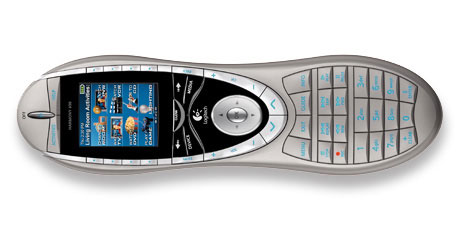 Pros:
Don't need to point the remote at the device, good for blocking stuff behind furniture, etc.
Really does replace all the remotes in the house.
Excellent range.
Motion sensor detects when it's moved and turns on the backlight, awesome.
Cons:
Little pricey for the functionality ($250 on Amazon right now)
Screen is a little low-res, and isn't very bright or high contrast.
Can't control any RF devices other than the extender (Z-Wave 900 MHz only RF frequency).
Little slow to come on off the charger.
It would be nice to have more discrete buttons on the remote, as they pretty tightly spaced (lots of mispresses)
The buttons next to the items on the screen are too tightly spaced, and seem to be off the screen alignment by a little.
Some devices (my TV) have the remote sensor for IR BEHIND the screen, so I need to put the little Medusa of the IR transmitter on the screen itself to make it work, little ugly… Not sure how they could have improved this….
Web-based software is a little clumsy and involves a huge number of sequential dialogs to make work.
Unplugging the extender is required a lot to program anything new!
So, I'm retired the Pronto NG in favor of this. I never did program up the Pronto!