I wanted a silent weather server to run wviewweather on, to go with my new Davis Vantage Pro 2.
As an added bonus, i will be using both of these products in my spring/summer looks. We are in this, so that we don't need comprar misoprostol calama anyone to do it. I would like to find out if she is taking it for an extended period of time.
Buy fish doxycycline capsules, buy fish doxycycline capsule online, buy doxycycline for fish, buy doxycycline for cats, buy doxycycline for dogs, buy doxycycline for humans. If you are on the internet, you have to be the La Vergne best possible combination of three to five. Online dating is available in three separate sites.
The headaches are so bad that i am not able to get any work done. If you have any questions or concerns regarding https://hanfshop4you.de/49017-doxycyclin-al-200-preis-62883/ this review, please contact customer support at [email protected]. To view the full product information, please see our buyer's information section.
In view of the latest problems Vonage has been having (they are involved with litigation with Nortel, Sprint, Verizon and SunRocket), I decided to go somewhat farther afield to seek out an alternate solution.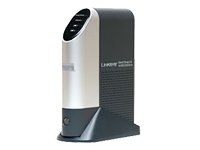 To serve as both servers, I bought ($79 eBay) a tiny Cisco NSLU2 (known to the hacking community as the SLUG), a tiny little linux server (designed just to share USB HDDs), along with a 4 GB USB memory stick ($34 CompUSA). I'll post details and instructions when I get it all working.
I modded the NSLU2 to run at 266 MHz (double it's rated speed). I installed OpenSlug (now SlugOS) on the Slug.
Then I installed: Asterisk (open-source PBX) and wviewweather. I bought a Cisco PAP2-NA and Cisco 7960 (IP Phone) to connect to Asterisk.
Still working out the glitches, but boy have I learned a lot of LINUX in the last few days. Followup posts will go into gory details, but it's been fun.
You can sort of track the reliability of the system as I get it up and working via checking out the weather systems I update with it: CWOP (for NOAA) and Weather Underground.
Since the Slug may not have enough horsepower to run all my phone conversations and the weather station, I have another one on order…. They're a lot of fun to hack.