As of 8:50 AM this morning, I'm an American.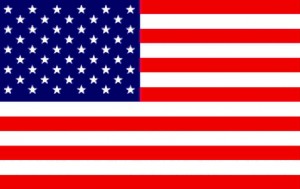 Here's the timeline for me:
March 30, 2008 – Sent in Application N-400
April 3, 2008 – Received application
May – Fingerprinting appointment
September 19, 2008 – Citizenship interview
September 29, 2008 – Oath
September 29, 2008 – Registered to vote
Ceremony at Denver USCIS, 12000 East 47th in Denver at 8 AM. Arrived 4 minutes to 8 (oops).
Master of Ceremonies, Director of Denver Field Office, USCIS (young looking man: addresses everyone as guys, says things like "super", I didn't realize there was only men on city councils = councilmen, "I get a kick…")
Sequence:
Arrive 7:56 AM
Green cards stapled to oath appointment form
(44) New citizens ushered into room (metal detector, pockets cleared, had to ditch my pocket knife in a plant). Envelopes on each seat with: pocket constitution guide, some bad pamplet on what to expect, passport application, instructions on fixing your SSN, letter from the Shrub, ceremony pamphlet with oath.
Green cards and oath forms taken away. >50% had to revise the form on the back (it asks whether anything had happened to you between interview and oath: leave the country, get divorced, etc.). Mine were all Nos (10 questions), I doubt anyone had a legitimate Yes (did you join the Communist party between your interview and the oath?).
Family ushered into room
Opening words.
Video showing people at stadium taking oath
Words from DIrector (kept calling everyone guys, importance of voting even for local elections)
Really bad rendition of "Star Spangled Banner". Hard to sing along to. Almost nobody did.
Stand everyone up by country of origin (I think I was the only Canadian). 27 Countries in room, South Africa, Mongolia, Afghanistan, Pakistan, North Korea…
Take Oath.
Pledge of Allegiance. Under God.
Video of Shrub welcoming as as citizens followed by "Proud to be an American" music video (why only the Navy?). More people sang to this than Star-Spangled Banner. Director says: "I've seen this video over 100 times, each time I get a kick out of it".
More words, now "leave" (take your time, but get out within 10-15 minutes for the next group).
Certificate of naturalization handed to me (complete with serial killer photo of me…. Nice. Didn't know that was my only chance.)
Photos in front of FLAG, Dept of Homeland Security podium, Seal….
Leave ~9:20
Drive to Boulder, drop off Cassie. Drive to Boulder County clerk. Register to vote. Weee.