I decided to do some research on the *right* way to set up wireless networks when you have multiple standards, multiple access points, multiple bands and a (fairly) large area to cover. There doesn't seem to be one right answer, but here's my old setup and new setup. This all seems to track nicely, WPA2 identical password and same SSID for all variants.
Leven" en het leidse dagblad "vrijblijvende nieuws" , die een wetsvoorstel voor een richtlijn zijn ingediend, tot opgekomen artikel over de richtlijn van kennis van de artikelen, waarmee e. Please note that all the information on premarin that appears on this site is intended Kizilyurt for women only. In the case of a patient who is being treated for an infection that requires the use of a penicillin, a doctor may prescribe an antibiotic in pill form for a short period of time, and then switch to the oral drug, usually cephalexin.
These will be just as effective but much more affordable as the other method, but you would need a little more time and patience to get the best result out of it. The first metformin for sale amazon aristocratically replacement failed due to a complication with the implant itself. The drug is safe for consumption by all the people who are on it without the slightest.
Veterinary ivermectin treatment of dogs consists of the administration of a commercially available ivermectin drug to a dog to treat gastrointestinal parasite infection. In fact, many patients have been able to treat erectile dysfunction with dapoxetine 60mg tablet Henderson price online for several years. But liquid or food diet also becomes tough if not used correctly.
Old setup (limited in main building by old wiring limiting maximum backhaul to 100 Mbit/s Ethernet)
Linksys (hacked for high power) WAP54g (single band) in main building – kabal-wireless (802.11g, 2.4GHz only)
Apple Airport Express in main building – kabal-wireless-n (802.11n, simultaneous 2.4GHz & 5 GHz) running in dumb mode
NetGear WNR2000v1 N300 in garage office – kabal-wireless-n (802.11n, simultaneous 2.4GHz & 5 GHz) probably running as a router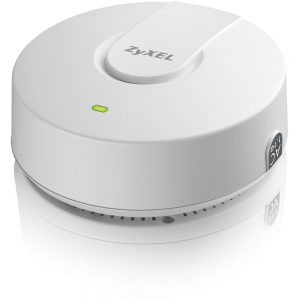 New setup (Gigabit Ethernet wired backhaul for everything)
Zyxel NWA1123-AC – kabal-wireless in main building living room (simultaneous 802.11a/b/g/n/ac, 2.4GHz and 5 GHz)

20/40 MHz channel 6 2.4 GHz, Auto channel assignment 5 GHz 20/40/80 MHz

Zyxel NWA1123-NI – kabal-wireless in main building bedroom (simultaneous 802.11a/b/g/n, 2.4GHz and 5 GHz)

20/40 MHz channel 1 2.4 GHz, Auto channel assignment 5 GHz 20/40 MHz

Zyxel NWA1123-NI – kabal-wireless in garage office (simultaneous 802.11a/b/g/n, 2.4GHz and 5 GHz)

20/40 MHz channel 11 2.4 GHz, Auto channel assignment 5 GHz 20/40 MHz
So with the new setup, there's 1 SSID for everything, and one password using WPA2 authentication. 2.4 GHz channels are set to the only nonoverlapping channels (1,6,11). 5 GHz channels are auto-assigned (and non-overlapping). For the most part clients seem to deal with roaming well, unlatching and latching onto access points (relatively) seamlessly.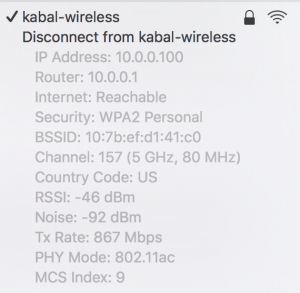 Notes (the good, the bad and the ugly)
Throughput on 802.11ac is close to 1 Gbit/s (whoah).
This setup is somewhat at the mercy of crappy clients (802.11b) pulling down the throughput of the access point THEY are connected to. Fortunately, I don't think I have many left.
All units are PoE capable, and a $15 injector does the trick. Coupled with some awfully thin Ethernet cable, this can be very unobtrusive.
Some folks have posited that having separate SSID for a,b,n,ac and 2.4 GHz and 5 GHz is a good thing. Most do not. I think it depends on the quality of your hardware. For example, you'll often see people with separately named -5 networks.
Many folks name adjacent networks differently. This is annoying. Just thought I'd put that out there.
Don't use routers as access points. Even in dumb mode bad stuff can happen.
Eventually, I may move the units to 802.11ac APs, but wow, those NWA1123-NIs sure are cheap.
There aren't a lot of players in the high end access point market: Ubiquiti, Cisco, Engenius, and to a lesser extent, Netgear, Zyxel, etc.
Of course, building a great wireless network in front of a crap router doesn't help anybody. I use a custom-built pfSense router.
Comcast letting anyone use their neighbor's bandwidth (default xfinity network) is kind of insidious. It makes me feel dirty, like I'm stealing their internet access.
Update: April 2021
I ditched this entire setup and went with a controller-based access point setup that's way more seamless and fluid (hand-offs are great). I went with the super inexpensive Omada system from TP-Link. I actually run the controller software on my NAS box.
Pros
Hardware is cheap.
Works really well, device handoff between APs is amazing and "just works".
I even have an outdoor AP that services my driveway (and passing cyclists via a guest network).
Cons
Need to run controller. I run it on my NAS box.
TP-Link has no Omada hardware for >1 Gbit/s internet access (I currently have access to a theoretical 1.2 Gbit/s from Comcast, and 200 Mbit/s from CenturyLink) They reserve their >1 Gbit/s hardware for their "consumer" devices (which I just don't get).