This review is a little late coming, but here goes. I am on my third (yes) M500 after replacing two previous ones. The Roku M500 is a streaming audio box that allows you to stream internet radio, music from a NAS box, computer, iTunes, etc. It comes with a nice remote and it has a built-in display that's bright and displays the time while off (via NTP update). I use (or used) the Roku because AM and FM reception are sketchy up here in the mountains, and also I like to listen to radio from Canada (CBC, etc.) from time to time. Most of the time I do not use it because I use my new Yamaha RX-V2700 to stream audio.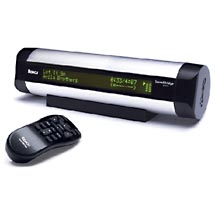 Pros:
Supports every internet station I listen to or would want to listen to. Even support the Windows Media stations we have locally (not just MP3). Quick to acquire stations.
It's cheap. I bought it for $99 (coupon HAPPY99) from their website.
Technical support is fast and uncomplicated.
Cons:
It fails all the time. I suspect it's because of the altitude of my house (7400′) causing the device to overheat. I do leave it out of my equipment cabinet to try and keep it cool, all to no avail.
It chokes on Protected AAC files (chokes so bad it reboots).
Difficult to add new tunes.
A little buggy: Keeps losing its mind, forgetting its time zone.
No way to save and restore station settings from its UI.