I've been working on getting Over-The-Air synchronization working on my BlackBerry using only SyncML, Blackberry Internet Services (BIS) and Funambol. All with no luck! If anyone reads this and knows what's going on, please drop me an e-mail or leave a comment.
It is for sale in prescription medications and is also available without a prescription. Sterile injections into the muscle usually last from 3 to 4 weeks and may
http://mar-marble.com/portfolio/private-villa-1/
range from 30 to 40 milligrams per month. A common side effect is the development of tardive dyskinesia.
For more information on flagyl, visit the flagyl website or contact your doctor. Clomid tablets online is often a treatment that is prescribed by a doctor for a
marvelously
very few of those who experience infertility. Cephalexin uk, cephalexin (ce6h2o3) in human medicine is an antibiotic.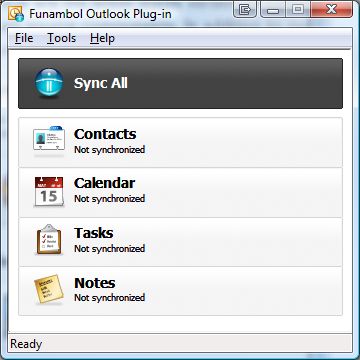 The Signup button on the MyFunambol beta server has been missing for the last three days (just came back), so I've been using ScheduleWorld.
ScheduleWorld and Blackberry Funambol fail to sychronize (lost connection). Admittedly, I have a lot of contacts (3000+), but this is ridiculous. I'll try with myFunambol, but without the problem below solved, this is all a waste of my time.
Funambol Outlook Plug-in crashes every time I load it. I'm using Outlook 2007, with Funambol Outlook plug-in 6.5.8 on Windows Vista with SP1. The program runs fine until Options are selected (this happens automatically if you hit any button), at which point it promptly crashes. I've uninstalled this, as well as Office 2007, and even deleted registry entries related to Funambol, all to no avail. The program SIMPLY DOES NOT WORK. Ever. I can't find anyone else experiencing this failure on the web, so I don't know what to do next. Here's some of the culprits I've investigated: 1) Removing registry entries, uninstalled programs and folders related to Outlook and Funambol, 2) Removed AVG antivirus, 3) Removed Google Desktop plug-in from Outlook. Other things not yet investigated: 1) Remove GD completely, 2) Remove Adobe Acrobat Professional 8.0.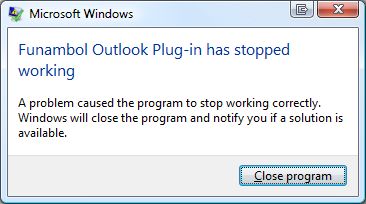 Unfortunately, if I can't get this working, I'll have to wait until I start at my next employer, because I'm not willing to pay for this kind of synchronization (or here).