Archive for
January, 2008
0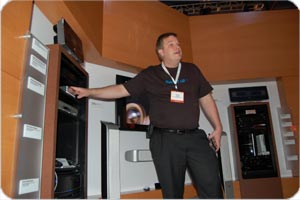 I did booth duty and help setup my company's booth at CES. It was a lot of work, and honestly, I got more information about what was going on at the show last year, when I didn't attend, than this year, when I did. A great source of information about CES is clearly Engadget.
I have to say, after hearing about the stunt pulled by Gizmodo, I would have been extremely upset at this individual (Richard Blakeley) if he had done this to our booth.
0
16929I've taken a few lightning photos which have come out rather well, in my opinion. My technique is not very advanced, and possibly not the best, but here's what I do:
Turn off the flash (or automatic flash)
Set the timer to 2 seconds (10 seconds is too long).
Mount camera on tripod, gorillapod, or rest it somewhere steady.
Trigger it OVER and OVER again until you get the picture you want.